Our volunteer instructors are the backbone of our program. They teach a variety of subjects from professional development to how to change a tire.
Every woman in our program is matched with a trained mentor to serve as her personal support and encouragement source.
We love celebrating! Throughout the year, we'll celebrate holidays, birthdays and graduation, but mostly the achievement of our ladies.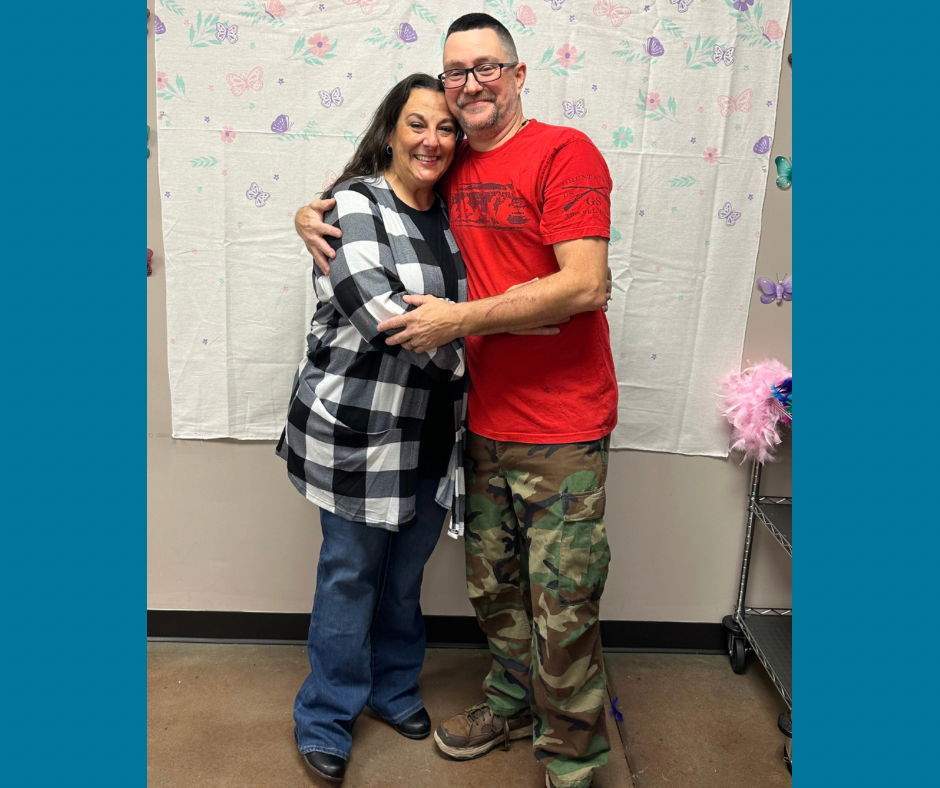 Rising from the Streets: Brooke Rogers' Journey
Rising from the Streets: Brooke Rogers' Journey Imagine not having a place to call home. Think about how long you've gone without having a roof over your head or heat. Was it more than two years? Four walls and a roof provide safety: a bed to sleep, privacy, independence and even a sanctuary. For those without one it's merely a dream. If you have one you likely have food in your kitchen as well. Brooke Rogers has lived without any shelter or food, weighing as low as a mere 98 pounds. Through her will and the power of Hand UP for Women's ministry she discovered renewed hope while overcoming hunger and homelessness. This is her story. Surviving on the Streets [...]
Hand UP for Change Auction to Raise Money for Largest Operating Budget Ever
Supporters Can Bid Online October 20-29 The Hand UP for Change Auction is back for its third year to raise designated funds for Hand UP for Women's operating budget. This year the goal is to raise $25,000, a five thousand dollar increase from 2022. Loyal supporters believe in Hand UP's mission to serve women who have experienced hopelessness in and around Knox County. Thanks to their servitude, the Hand UP for Change Auction is possible. Finding Her Forte Consider Betty-Lou Simpson. She began giving back to Hand UP for Women close to a decade ago. Her daughter was teaching a Bible study series to participants and she tagged along. "After one class I was hooked," Betty-Lou said. She started helping [...]
Finding Friendships That Last a Lifetime
Friendship is often referred to as the backbone of life. Unlike family, you can choose your friends. At Hand UP for Women friendship is at the forefront of the ministry. Before Karla Johnson applied to be a program participant, she met Alisha Vasquez through Knox Recovery Court. The two befriended one another and Alisha shared she was a participant in the Hand UP for Women program. "She completely changed her life, and I wanted what she had," Johnson said, "I wanted to be able to live again and have a group of women show me how to do that." Karla recalls Alisha always got good reports from Hand UP for Women and chose to follow in her footsteps. A Murky [...]
Earning Freedom Back
July is a month we're reminded of our freedoms. To live in the United States of America is a blessing for many people, including Krystal Brown. Though she's faced challenges, the Hand UP for Women graduate knows the importance of having rights and exercising them, including voting. "Your vote does matter," Brown said. She works for the City of Knoxville; Mayor Indya Kincannon is her boss. Brown finds herself keeping up with current events more because of her work. Brown often works overtime helping with special events where she learns more about political happenings in Knoxville. "I feel like I'm a productive member of my community when I have more knowledge about what's going on. I am grateful to live [...]
Hand UP for Women Gala to Reflect on 20 Years of Transformation from a Servant's Heart
In preparing for this year's gala, Executive Director Eva Piece reflects on the women whose lives have been transformed. There are at least 100 ladies whom she feels have "profoundly changed," because of the Christian-based program. It's these Christian principles that guide women in becoming self-sufficient and financially independent regardless of socioeconomic status. Pierce shared, "The most important thing we've accomplished is that showing what we do, works." Program mentors have deep conversations with these ladies to talk about the hard realities and unexpected conflicts life throws at them, but this work only scratches the surface of their mission. It takes a year for a participant to complete classes in character, financial literacy, career readiness and life management. And the [...]